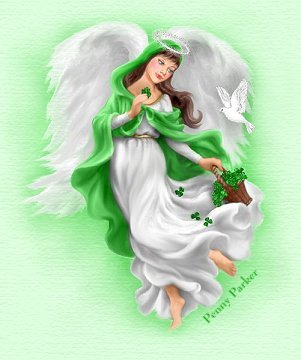 ~~THE ST. PATTY'S DAY ANGEL~~


There's this lovely little angel
Wearing robes of bright green
When the leprecauns see her
How they dance and they preen.




She helps them to find
Their true pot of "gold"
But it's not what you think
This is the story I'm told.




For as she bends low
She whispers to each
Put your trust in God
This is what I do teach.




She makes them feel special
Before she goes on her way
But don't worry or fret
She'll be back next St. Patty's Day.

~Written February 21,2003~
~By Lynangel50~
~~Lynn Kitchene~~
The music on this site is for your listening pleasure
only and is not available for download. If I'm infringing
on anyone's copyright, please advise and I will remove immediately.

I always try to give the proper credit for all graphics, poetry, etc.
on all of my webpages. If I've missed anyone, my sincerest
apologies to you and if you would be so kind as to
e-mail me, I would promtly see that you receive the credit due
or remove the item, whichever you'd prefer. Of course,
I'm hoping you will graciously allow me to use them .
Thank you and God Bless
© 1998 Lynangel